Fitzjohn's Hampstead – Luxury Residences for Living Well in Retirement
About the project:
Love Interiors opted to work with MERLYN, installing the Arysto range in order to satisfy the demand for high quality and high design.
The Challenge:

Exclusively designed to offer a premium residential experience for those enjoying life over 60, Fitzjohn's Hampstead combines artistic flair with world-class facilities. Comprising 29 apartments – as well as a state-of-the-art wellness lounge and spa – residents have access to a range of amenities, that rival even the most exclusive of hotels.
With luxury at the heart of this development, the building takes inspiration from the area's Victorian mansions, benefiting from large floor plans and high ceilings. Interior designers 1508 London and Love Interiors worked hard to establish a refined, timeless design that encapsulates the beauty and character of the Hampstead area. The resulting design scheme is shaped by a strong Parisian influence, offering residents elegant aesthetics alongside comfort and functionality.

"I've worked closely with MERLYN on previous projects and have absolute confidence in both the quality and design of their shower enclosures, as well as their ability to work to tight deadlines which was crucial for this project."
- Jo Love of Love Interiors
The Solution:
Premium design was high on the agenda of this prestigious establishment, requiring elegance and opulence. The spacious bathrooms warranted only the best fixtures, with wetroom-style showers and stylish chrome finishes specified throughout. Love Interiors opted to work with MERLYN, knowing that the Arysto range satisfied the demand for high quality and high design and the minimalist glass panels would complement the room's grandeur.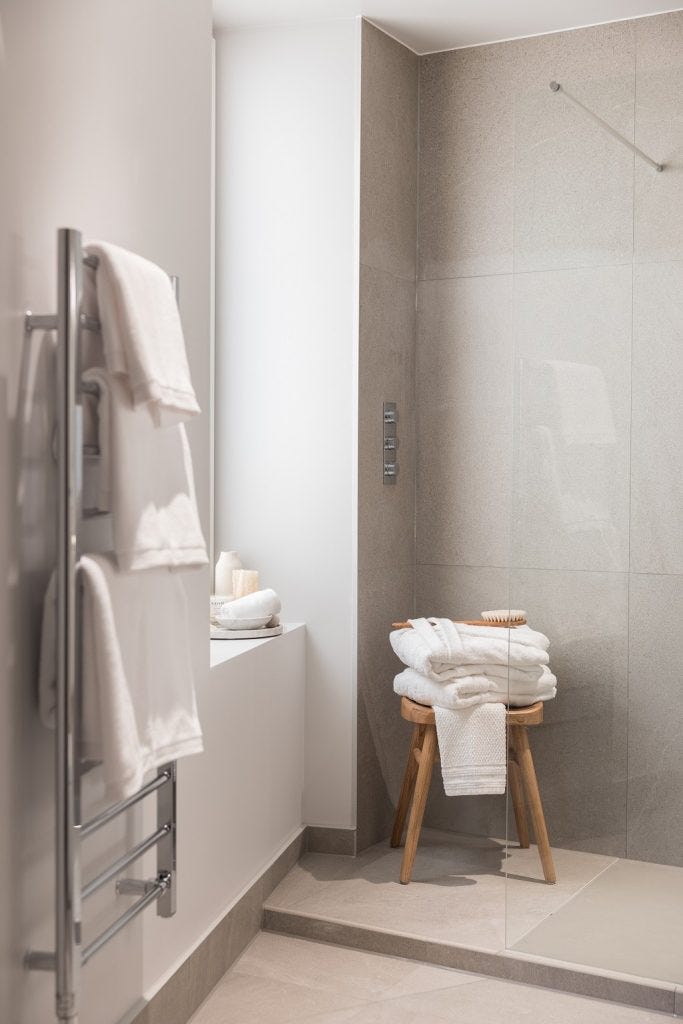 The Result:
A selection of Arysto showers were installed throughout the luxury apartments, including Arysto X, the ultimate in frameless design.
In keeping with the bathroom decor, the sleek chrome design and minimalist appearance of Arysto combines both style and function. As well as meeting the brief on the design front, these premium shower enclosures boast a Mershield Stayclear protective coating, preventing limescale build-up for an easy cleaning regime. Precision-engineered hinges and a smooth opening and closing mechanism, ensure the shower remains easy to use as residents get older.
MERLYN's Specification Team supports clients in the planning, design, installation and after-sales care on all projects, big and small. With large stock volumes and a bespoke design service, our team is with you every step of the way to handpick and tailor the best solutions depending on your showering environment needs.