Keep up with current trends and add a splash of colour to your bathroom.
The standout bathroom trend of the moment is colour! Make a statement while turning your bathroom into a spa-like sanctuary. Bathrooms are increasingly embracing luxury, peace, and an intrinsic minimalism. They are no longer merely an afterthought, and the gorgeous rooms are frequently shaped by the neutral colour scheme. Recent trends are showing the addition of colour, whether its to compliment a bathrooms neutral tones or brighten a bathroom entirely.
Go bright in the bathroom
The look and feel of your bathroom can be changed with a fresh coat of paint. Your entire house will be improved by painting your bathroom a cheerful colour, which will also harmonize this practical area with the rest of your décor. This is a cheaper way to change your bathrooms look without renovating the bathroom entirely. Before choosing a colour scheme for your bathroom, it is important to think about the mood or sensation you want the space to produce. Bright yellow, for instance, might make you happier in the morning while pastel colours promote serenity. Why not be bold and choose a bright colour for your bathroom? Adding a splash of colour to the bathroom is currently popular, and you can easily change the look if the trend fades. You might also consider painting the ceiling. The key here is to pick a darker hue of the wall colour that you already have. It not only gives you a unique and striking appearance, but it also gives the impression that the ceilings are taller. For some reason, homeowners are still hesitant to paint their ceilings, despite the fact that doing so would change the bathroom's design and aesthetic appeal. When choosing colours for the walls, vanities, or ceiling, think about deep, saturated hues of blue, green, purple, and even yellow.
Another method to add colour to your bathroom is with soft furnishings like blinds, towels, bath mats, shower curtains, and rugs. If you've picked a striking colour for your walls, choose complementary or contrasting tones. As an alternative, you might use soft furniture to add splashes of colour to a monochromatic bathroom.
Trending Colours
Soft Blues
Soft blue promotes tranquillity and restfulness, offering a fresh and airy base palette in a bathroom. Blue has long been a popular bathroom paint colour, and as people look to create serene, wellness-enhancing rooms throughout the home, its appeal has only grown.
Gold
Its hard to deny the luxuriousness gold can bring to interior design. It is so elegant looking even regal. There's a reason gold has been associated with luxury for so long, it is effortlessly beautiful, and incredibly versatile so don't be afraid to be bold and try gold. Your bathroom will look more glamorous by adding discreet gold fixtures like taps, mirrors, shower enclosures, and even toilets. Classic bathroom designs, as well as rustic and vintage themes, look stunning with gold finishes. Gold bathroom accessories can be really effective if used in the proper bathroom décor.
Black and White
One of the most classic colour schemes is black and white. It is perfect for making a bigger space feel more comfortable. Black showers can give your home a spa-like ambiance and a sense of tranquillity. Dark paint colours in small spaces were once frowned upon, but strong colours like black and charcoal grey are now frequently used in bathrooms. This bathroom colour trend can assist to generate a professional, modern ambiance or engulf the space in a comfortable feel rather than feeling depressing and oppressive.
Warmer Neutral Tones
Bathrooms that use neutral hues like pristine white, soft cream, cloudy grey, and various beige tones are made to feel tidy and peaceful. Layer different tones of the same colour in the flooring, vanity, shower curtain, and accent pieces of the room to prevent producing a bland appearance. The key to adding colour to a bathroom with a neutral colour scheme is balance, proper use of the available space, and attractiveness. Occasionally, too little colour is undetectable, while other times, too much colour detracts from the peacefulness of the bathroom. Current trends are eschewing cooler, industrial colours in favour of warm, natural hues to infuse the home with a soothing sense of serenity.
Green
The colour green is currently popular in every room of the house, but bathrooms benefit the most from its calming, restorative effects. Green with its wide variety of intensities and hues, suits almost any decorating style. There is something calming in green as it reminds us of nature and its link to wellness. To get it right in a bathroom you need to understand the undertones of the shade of green to build a successful colour palette. There's a big difference between olive, sage and emerald green for example so what works with them should vary too which is a good tip for any bathroom design. For a clear reference to nature, combine a soft green vanity with warm white walls, or cover the entire space in green for a verdant appearance.
The introduction of botanicals is another way to add a pop of green to your bathroom. The spa experience is best simulated by biophilic design. Biophilic design is an approach to architecture which aims to bring the room closer to nature. Natural lighting, ventilation, landscape features, and other aspects are incorporated into biophilic-designed buildings to improve occupant productivity and health. The correct lighting can be used to create the desired atmosphere. Botanicals have a variety of health advantages, they not only reduce humidity and clean the air, but they also produce a peaceful atmosphere that you will enjoy spending time in. Some of the plants which we recommend for your bathroom are Orchids, Spider plants and Gardenia. Experiment with contrasting wood and stone textures.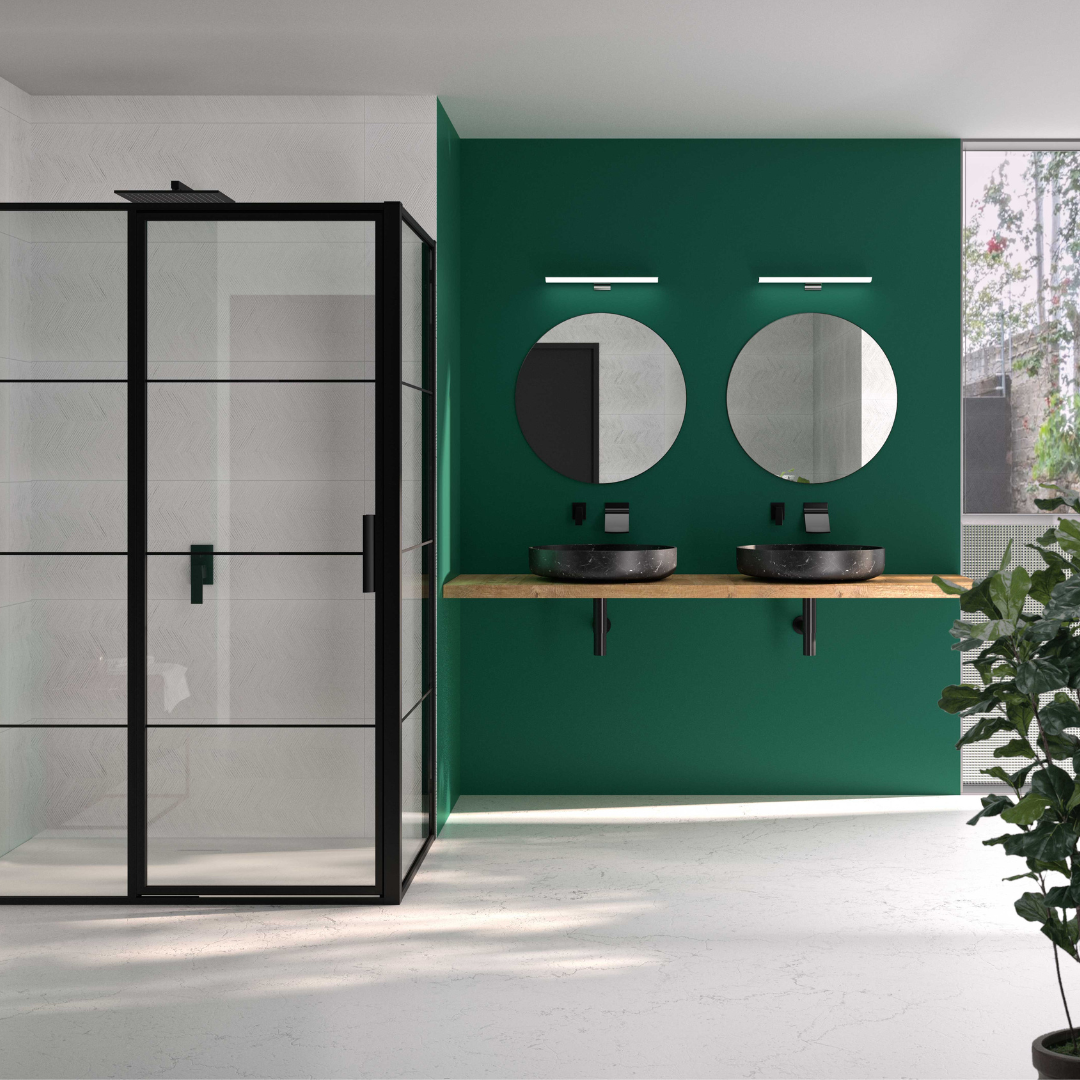 Make your shower stand out
Why not choose a statement shower instead, if you don't have the money to renovate your bathroom entirely? Simply use a striking pattern or print on one wall of the shower enclosure. It's a less expensive approach to make a statement in your bathroom while still giving you a striking appearance to appreciate every morning.
Another way to make your shower stand out is by adding tiles in unique tessellating forms or with colours. Tiles offer the opportunity to add a unique style or pattern to your bathroom. Bright tiles with panache are a fantastic option for individuals who wish to take a more permanent path. They blend well with a variety of designs. You may add interest right away without significantly changing the bathroom's motif by leaving the rest of the room neutral and adding colourful floor tiles.
Accents are the simplest way to add colour to any space, and the contemporary bathroom is no exception thanks to the neutral background that lets these accents stand out even more. It might be anything as straightforward as shower curtains in vivid colours, the introduction of wall art or a distinctive feature like a sink in a striking colour. In order to make a stronger visual impact, make sure to repeat any bathroom fixture or accessory you choose to bring colour to a neutral bathroom more than once.
One of the best methods to change a bathroom is using wallpaper because it takes up no usable space while instantly adding personality. This is especially true in compact bathrooms where there is a shortage of space and practicality is a must. The best room in the house to use wallpaper is the bathroom. You may use colour and pattern much more boldly in a small space like the bathroom than you would in a much bigger one. In order to protect the sink from splashes if you decide to use wallpaper in the bathroom, it is best to install a tiled splash-back over the sink.